THE TETRIS LIGHT【LEFT 80+ PCS ONLY】
Regular price $ 68.00 $ 34.00 Sale


It's a real-life Tetris! And it's a lamp!
You can officially geek-out for the Tetris Lamp. As far as we're concerned, it's magic.
Simply stack the pieces together and they illuminate. But when they're removed from the tower, they turn off.

As long as the pieces are touching, they will light up.
Arrange the pieces however you wish!
The Tetris Light comes with the seven tetrominoes featured in Tetris. As long as they're touching each other, they will light up. So, go nuts! There are endless combinations to create.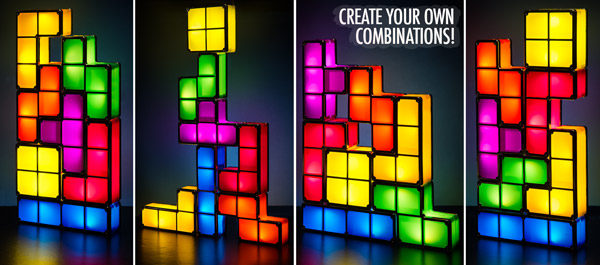 Using the included seven pieces, you can generate an endless variety of configurations.
Seriously awesome mood lamp!
The 80s were a magical time for video games. Rekindle your love of clearing lines and nailing a Tetris with Tetris Light!
Frequently
Asked
Questions
Question: How is it powered?
Answer: The Tetris Lamp is powered by a standard 120V ac adapter. We simply hid the cord behind the lamp in our photos.
Question: What kind of bulbs does it use?
Answer: LEDs power the Tetris Lamp and therefore will last a lifetime.
Question: Where does the power cord connect?
Answer: The power cord connection and on/off switch is located on the blue "I" shape.


Features & specs
Includes 7 individual tetromino pieces
Pieces illuminate when stacked together
Create endless configurations
Dimensions (average setup): 11" x 8" x 1.5"
Power: 120V AC adapter
Bulbs: LED
On/off switch
NOTE: Our Facebook Official Customer Feedback Score Has Reached 4.5 out of 5. The

Pages with a customer feedback score below 2 will not be allowed to advertise anymore.  We take very seriously our product quality and customer service.  Please rest assured of purchasing products in Greatpricesonproduts.com
FREE SHIPPING FOR ORDERS

OUR GUARANTEE



Not satisfied with your order? No worries! Let us know within 30 days of receiving it, and we will give you a stress-free refund or exchange.